Read full info on the USA Artist Visa here
Actors coming for Pilot Season – read here
Step by Step of the USA Artist Visa application process – here
The extraordinary requirements that the USCIS need you to prove – here
The Petition Letter proves how you are extraordinary – article here
You will need Recommendation Letters – before you approach people
Our DIY Guide Information below
Our comprehensive step-by-step O-1 3 Year Artist Visa Guide has examples of possible evidentiary items in all criteria, to assist you in building your petition letter to DIY your artist visa or to focus and speed your application if working with an immigration attorney. We give you all your need to file an Original Application and when you need it how to file a visa Extension, Amended visa and how to Change your Sponsor.
Successfully helping artists since 2015.
Our guide focuses on:
O-1 Extraordinary Achievement in Motion Picture or Television Industry (commonly referred to as O-1B (MPTV))
and the
O-1 Extraordinary Ability in Arts (commonly referred to as O-1B (Arts))
O-1 Visa benefits:
Not necessary to have a visa previously
You have the choice to self-file or use an attorney
Your family can accompany you
Valid up to 3 years
O-1 Guide includes:
EVERYTHING

you need to DIY your O-1 Artist Visa

Full Motion Picture Professional (MPTV) Petitioners Letter/Cover Letter Sample
Full Musician (Arts) Petitioners Letter/Cover Letter Sample
Several sample Recommendation Letters
Motion Picture Itinerary Sample
Musician Itinerary Sample
Production Company Sponsor Contract Sample
Agent/Manager Sponsor Contract Sample
Analyses of the Filing Forms I-129
Each criteria broken down for evidence
Sample paragraphs for each criteria
USCIS Cases and Documents
Includes

Extension

and

Change of Sponsor

Updated with newest legislation
24/7 Access

Lifetime
SSL Secure

O-1 Guide
$247
O-1 Artist Visa step by step
3 year temporary work papers
Distinguished Evidence
The Petition Letter
Filing the Forms
Itinerary & Sponsor Contract
Self-file or Attorney
JOIN US
COMBO

$497
O-1 & EB-120% SAVING
Both COMPLETE visas guides
O-1 Visa & EB-1 Green Card
FULL GUIDES
Everything to Apply
Self-file or Attorney
JOIN US
---


We accept crypto – email us [artist]@greencard.guide
Artist Testimonials
Read our testimonials here: https://artistgreencard.com/testimonials/
What's in the O1-B GUIDE
The Basics – Guidelines – The Strategy – Planning your application.
We lay out the facts of how the O-1 Visa works, what all is involved, and when each step takes place. We give you a strong overview of the whole process so that you are ready to begin your application with a clear view of the finish line.
The O-1 – What is it exactly? Who is it for?

Do I qualify? – How to assess your chances.

To Self-File, Or Not To Self-File – Applying with or without an attorney.

Timeline – How long is the process? What to file when.

Precautions – Some things to avoid that you might not think of.
What you need from your sponsor
How to build an Itinerary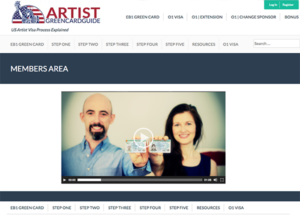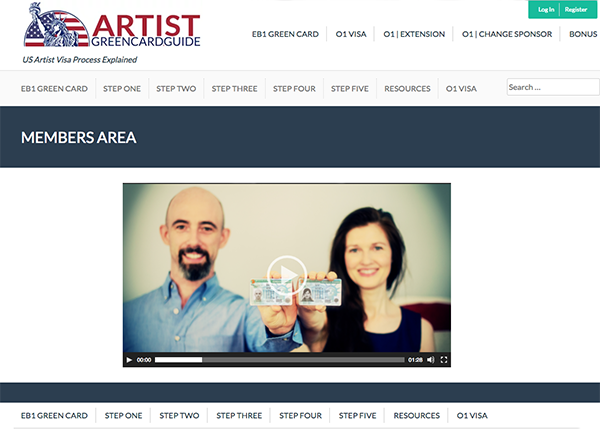 STEP ONE – The Evidence
We explain each of the criteria and how they relate to the artist, as well as interpretations that USCIS examiners won't accept. We explain how to gather strong and compelling evidence. Here we also show you how to further prove your intent to continue working in your field as well as your benefit to the United States of America. See US government advice here.
Good Evidence – What makes compelling proof?
Bad Evidence – How to anger your examiner!
How Much? – Compelling without overloading?
Presentation – Highlighting, Numbering & Binding.
Recommendation Letters – Who to get them from and what they need to say.
Deal Memos and Letters of Intent – Prove you will continue to work.
Consultation Letters – Labor Union approvals.
The Criteria – The criteria explained and how they apply to you.
Recommendation Letters – How to maximize their efficiency.
STEP TWO – The Petition Letter
We guide you in writing your petition letter, either for a Motion Picture Professional (O-1B subcategory MPTV) or a Musician (O-1B subcategory Arts) – if you use an attorney, this is what you will pay them to do for you. The letter is written in the third person, from your sponsor's perspective. We deconstruct the formatting and wording of the letter to best present your case. The letter is a formula and we decode it all out for you. You might have heard of the Kazarian v. USCIS, 580 F.3d 1030, 1036 (9th Cir. 2009) Case? No? Don't worry, we have, and we use the findings to help you build the compelling case that the examiner needs.
Make life easy for your Immigration Officer.
One criterion at a time – How to present your case and weave it together.
Choosing the phraseology that will connect you with your examiner.
Sample letter segment for each criteria referencing the evidence samples from Step 1.
Closing Statements – How to wrap up, summarize, and seal the deal. Sustained Acclaim.
We give you TWO Sample Petition Letters, written for a Motion Picture / TV Industry professional (MPTV) and a Musician (Arts).
STEP THREE – Filing the Forms
We explain the required forms.
Check out the USCIS break down here. All the forms that apply to the O-1 application are available for free here
Most applications require the Form I-129 – O-1B Visa.
We show you how to package the application correctly for your examiner.
Want to bring your significant other and kids? Perhaps your make-up artist, agent or manager? We show you how.
We also detail the Consular Processing application.
STEP FOUR – The USCIS Decision
You are approved!! Fantastic!
How to prepare for your Consular Interview – your visa may be approved but you can still be denied by your local Embassy.
Request for Further Evidence? Don't worry, approval statistics are in your favor, you just have to follow the USCIS instructions and you will convince your examiner to approve your application.
Denial – You receive an NOID (Notice of Intent to Deny) You may be able to argue their decision.
You are approved at your interview – WOOHOO! The work is not yet done – we layout your first steps through the Port of Entry into the United States (Social Security etc.)

There's more…
O1 EXTENSION
How to apply for an O1 Extension
Filing the Forms
Writing the Petition Letter
O1 CHANGE OF SPONSOR
How to apply for an O1 Change of Sponsor
Necessary evidence
Writing the accompanying cover letter
DOWNLOADS
Evidence Checklist – An editable spreadsheet you can use to log your evidence in each category
Progress Checklist – An editable spreadsheet you can use to plan and monitor your progress
Itinerary – How to get the full 3 years – "activities" and "events"
Recommendation Letter Samples
USCIS Cases
And even more…

BONUS MATERIAL – Because we want you to succeed!
These added value bonuses will help you to strengthen your career paper-trail. To succeed in an all paper application you need strong published evidence and we are here to help you build that portfolio.
Press Releases – How to write them and where to send them.
8 Goal Setting Techniques
Marketing Materials – How to publicize and market your work.
Your Career Online – Yes, they will google you!


O-1 Guide
$247
O-1 Artist Visa step by step
3 year temporary work papers
Distinguished Evidence
The Petition Letter
Filing the Forms
Itinerary & Sponsor Contract
Self-file or Attorney
JOIN US
COMBO

$497
O-1 & EB-120% SAVING
Both COMPLETE visas guides
O-1 Visa & EB-1 Green Card
FULL GUIDES
Everything to Apply
Self-file or Attorney
JOIN US


We accept crypto – email us [artist]@greencard.guide
<!-- Begin Mailchimp Signup Form -->
<link href="//cdn-images.mailchimp.com/embedcode/classic-071822.css" rel="stylesheet" type="text/css">
<style type="text/css">
	#mc_embed_signup{background:#fff; clear:left; font:14px Helvetica,Arial,sans-serif;  width:600px;}
	/* Add your own Mailchimp form style overrides in your site stylesheet or in this style block.
	   We recommend moving this block and the preceding CSS link to the HEAD of your HTML file. */
</style>
<div id="mc_embed_signup">
    <form action="https://guide.us11.list-manage.com/subscribe/post?u=ea8bfc38c4f2349bcf1396c5f&amp;id=66869f071c&amp;f_id=004898e0f0" method="post" id="mc-embedded-subscribe-form" name="mc-embedded-subscribe-form" class="validate" target="_blank" novalidate>
        <div id="mc_embed_signup_scroll">
        <h2>If you are not ready yet sign up here to be kept updated –</h2>
        <div class="indicates-required"><span class="asterisk">*</span> indicates required</div>
<div class="mc-field-group">
	<label for="mce-EMAIL">Email Address  <span class="asterisk">*</span>
</label>
	<input type="email" value="" name="EMAIL" class="required email" id="mce-EMAIL" required>
	<span id="mce-EMAIL-HELPERTEXT" class="helper_text"></span>
</div>
<div class="mc-field-group">
	<label for="mce-FNAME">First Name </label>
	<input type="text" value="" name="FNAME" class="" id="mce-FNAME">
	<span id="mce-FNAME-HELPERTEXT" class="helper_text"></span>
</div>
<div class="mc-field-group">
	<label for="mce-LNAME">Last Name </label>
	<input type="text" value="" name="LNAME" class="" id="mce-LNAME">
	<span id="mce-LNAME-HELPERTEXT" class="helper_text"></span>
</div>
<div class="mc-field-group">
	<label for="mce-CITY">I live in </label>
	<input type="text" value="" name="CITY" class="" id="mce-CITY">
	<span id="mce-CITY-HELPERTEXT" class="helper_text"></span>
</div>
	<div id="mce-responses" class="clear foot">
		<div class="response" id="mce-error-response" style="display:none"></div>
		<div class="response" id="mce-success-response" style="display:none"></div>
	</div>    <!-- real people should not fill this in and expect good things - do not remove this or risk form bot signups-->
    <div style="position: absolute; left: -5000px;" aria-hidden="true"><input type="text" name="b_ea8bfc38c4f2349bcf1396c5f_66869f071c" tabindex="-1" value=""></div>
        <div class="optionalParent">
            <div class="clear foot">
                <input type="submit" value="Message me!" name="subscribe" id="mc-embedded-subscribe" class="button">
                <p class="brandingLogo"><a href="http://eepurl.com/h1MTan" title="Mailchimp - email marketing made easy and fun"><img src="https://eep.io/mc-cdn-images/template_images/branding_logo_text_dark_dtp.svg"></a></p>
            </div>
        </div>
    </div>
</form>
</div>
<script type='text/javascript' src='//s3.amazonaws.com/downloads.mailchimp.com/js/mc-validate.js'></script><script type='text/javascript'>(function($) {window.fnames = new Array(); window.ftypes = new Array();fnames[0]='EMAIL';ftypes[0]='email';fnames[1]='FNAME';ftypes[1]='text';fnames[2]='LNAME';ftypes[2]='text';fnames[3]='CITY';ftypes[3]='text';fnames[4]='PMPLEVELID';ftypes[4]='number';fnames[5]='PMPALLIDS';ftypes[5]='text';fnames[6]='PMPLEVEL';ftypes[6]='text';}(jQuery));var $mcj = jQuery.noConflict(true);</script>
<!--End mc_embed_signup-->


US visas for artists, US artist green card, greencard, British, Irish, Australian, green card process, green card requirements, usa green card process, green card application, immigration attorney, artist visa, O1 extention, how to work in US as an actor, filmmaker green card, foreign actor new york, foreign actor los angeles, M visa, P visa, us work visas for actors, immigration tips, actor green card, green card application, us green card requirements, green card interview questions, musicians green card, usa green card process, us visa application form, how to prepare I-129 form, o1 itinerary, o1 visa sponsor, artist visa usa, o1 visa usa, working visa usa, artist green card in america, artist visa usa requirements, visa usa, Can I apply for an O1 visa on my own, YES, Our comprehensive step-by-step guides will show you how to file your US Artist Green Card or O1 Visa – self-file or work with an attorney.
There are restrictions on some O-1B actors which are imposed not by the USCIS but within the arts industries. These issues can be avoided – we are letting you know so you are aware when applying.
The Department of Justice states that no persons cleared for work by the USCIS should be discriminated against due to their non-immigrant status, yet difficulties remain.
O-1 Actors (with rare exception) are barred from hire by NBCUniversal, Sony, ABC Disney, and Warner Bros, thus excluding them from a large number of castings. Solution: If they wish to hire you they can sponsor your application as you can have several O visas running concurrently. Please note: CBS and Fox Studios do accept the O-1 visa once the actor presents their petition in advance and it clearly lists them as a "Screen Actor" (an important element for all applicants to note – you will be limited to working within the category of artist you list on your petition – "Stage Actors" cannot work as "Screen Actors" – so be sure that you list all job titles under which you intend to work on your application). This also stems from USCIS and the studios having issue with the chosen sponsor. So ensure you choose your sponsor carefully – a manager/agent not a company if you need a blanket visa.
Another issue facing O-1 Actors is that they may not join Actors' Equity Association, meaning they cannot perform in union-contracted theater productions unless 'grandfathered' in.
The approval time can be long – approx 4 months and can be as much as 7 months. If you have a strong O-1 case consider using the USCIS Premium Processing service.
There are cases of O-1 applicants being turned down at their US consulate and embassy interview. We believe this is because the artists are not fully aware of their application and not in a position to argue their case. We show you how.
The O-1B is an excellent temporary visa to allow you live and work in the United States and is ideal for the creative artist who wants to trial working in the USA before committing to the EB-1 permanent green card. Concentrate on working with the studios that hire O-1B visas and you will have plenty of work. Use the O-1 as a stepping stone to the EB-1, it is a solid step in the right direction and establishes you in the US ahead of your EB-1 application although IT IS NOT NECESSARY TO HAVE AN O-1B visa BEFORE APPLYING FOR THE EB-1. The O-1B can be used to have the time necessary in the US to meet with potential employers and get your work known – and if an employer that doesn't accept blanket visas wishes to hire you, they can choose to submit an application for another O-1B for you with them listed as sponsor – the possibilities are endless!
Have questions? Check out our FAQ page.
Is this for really real? YES! Read our Testimonials.