Here is an overview of the EB1-EA application process.
It is important to have a solid understanding of the EB1-EA before you apply – what all is involved, what is needed from you and when each step takes place. Many people buy our guide when they are in trouble with an RFE – Request for Further Evidence, there may be time to fix your application but it is always better to get it RIGHT THE FIRST TIME.
It is important to figure out a plan of action before you start your application. Applying for visas to live and work in another country will completely change your life and you should approach the application strategically.
Our guides give you a complete overview of the whole process to give you the confidence to begin your application with a clear view of the finish line. Here is a quick overview of the process.
PS This is a long article – download it here to read later.
PREPARATION
Find out all you can on the EB1-EA – What is it exactly? Who is it for? Is this the correct visa to suit your needs.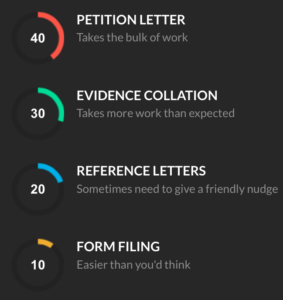 Assess your chances of qualifying.
Decide if you wish to self-file or apply with an attorney.
Work out your timeline. Figure out from current processing times when is optimum for you to apply.
Be aware of the pitfalls and prepare to avoid them.
STEP ONE
Understanding the criteria better prepares you for a successful application. The 10 criteria should be interpreted to relate to you and your career. It is also important to be aware of interpretations that USCIS Immigration Officers might not accept.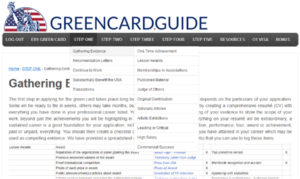 Major award – If you have one then you may only need to prove this criterion to qualify.
If you don't have a major award. There are a further 10 criteria to choose from and you only need to qualify in 3.
Lesser Awards – You got the award, where's the proof?

Memberships in Associations – Qualifying the association

Published Material – The publication, the article, and you

Judge of Others – Your extraordinary opinion

Original Contributions – What is original and what is significant?

Scholarly Articles – What qualifies?

Artistic Exhibitions – Proving artistic relevance

Leading or Critical Roles – The significance of your role

High Salary – Cha-ching!!

Commercial Success – Receipts, sales, Box office success
Each of these criteria need compelling evidence. You must also show with evidence how you can further prove your intent to continue working in your field as well as prove your potential benefit to the USA.
Assess what constitutes as Strong Evidence in each section

Assess what constitutes as Weak Evidence

How to present that evidence for your Immigration Officer – highlighting, numbering & binding.
Find peers and experts in your field willing to give you Recommendation Letters. These can greatly assist you in a successful case.
STEP ONE is the cornerstone of a strong EB-1 Extraordinary Ability case. Understanding the full process and the implications will benefit you and give you confidence in your application. It is also especially helpful as a blueprint if you are starting out in your career or have been asked by your attorney to 'get more stuff'.
STEP TWO
Use the information gathered in STEP ONE to compile The Petition Letter – if you are working with an attorney, this is what you pay them to do for you.
The Petition Letter is where you tell the story of your career and tie in how your evidence backs up that story.
The letter has a format. The Kazarian v. USCIS, 580 F.3d 1030, 1036 (9th Cir. 2009) Case findings give a solid plan on how to build the compelling case file that your examiner needs.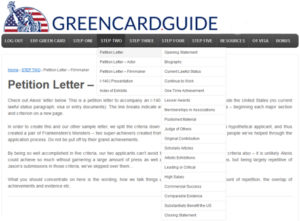 Having a well structured letter makes life easy for your examiner.


Opening Statements – Lead in, catch their attention, and get straight to the point.

One criterion at a time – Present your case and weave it together. Choosing the phraseology that will connect you with your examiner.

Get the most out of those Recommendation Letters.

Comparative Evidence – Petitioning with evidence that does not fall under the 10 criteria.

Closing Statements – How to wrap up, summarize, with a closing argument..
If you are submitting with an attorney please read your completed petition letter before submission to check for errors.
STEP THREE
Ready to File – Only when you have your petition letter and evidence together should you move on to Form Filing as they are time sensitive.
The application is in 2 parts – Part One requires that you be approved as an Artist of Extraordinary Ability and that makes you eligible for Part Two, applying for the actual green card (explained in STEP FOUR).
All the forms you are required to file as part of your application to QUALIFY as an Extraordinary Artist are available free from the USCIS website here.
The US government website has excellent advice here.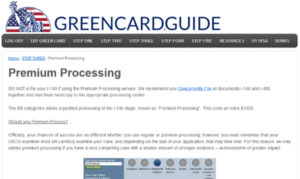 The forms necessary for Part One of the application:
I-140 – Qualifying as an Alien of Extraordinary Ability

G-1145 – SMS and Email notification form

I-907 – Request for Premium Processing
PREMIUM PROCESSING – you can choose to receive an answer in 15 days. (This is not necessary and is an added expense.)
CONCURRENT FILING – If you are currently in the USA on a valid visa you may submit the forms from STEP THREE and STEP FOUR together IF A VISA NUMBER IS AVAILABLE and apply for a temporary green card while waiting for a decision on your application. (Again, this is not necessary, but can be beneficial depending on your current status.)
STEP FOUR
This involves form filing Part Two – applying for the Green Card.
Great news! Your I-140 application has been approved and you have qualified as Extraordinary and are eligible to apply for the Green Card! These are the next essential items in the process.
The forms for the actual green card:
I-485 – Adjustment of Status (for those already in the USA)
If applying from abroad you will go through the process of CONSULAR PROCESSING.
If you are currently in the USA, you may apply for your Temporary Green Card and Travel Papers using these forms:
I-131 – Advanced Parole (travel permit)

I-765 – Employment Authorization Document (temp green card)
You will need:
Medical Examination – Vaccinations etc

Biometrics – Where, what and when.

Interview with US Embassy/Immigration Officer(not always necessary)
You may need to think about:
Bringing your spouse and children.
All USCIS Forms are available for free here. See US government advice here.
STEP FIVE
The USCIS decision
Request for Evidence – Perhaps you missed an essential document, worked with an attorney that didn't file a compelling case or perhaps the USCIS just needs more evidence. You will need to carefully break down your RFE so you can respond with confidence.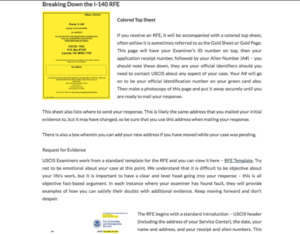 RFE – It may be many pages long. Be methodical.

USCIS notes – You can argue your case.

New Evidence – How to compile the proof.

New Cover Letter – How to tie it together again.

Be confident in the fact that a good percentage of RFEs get approved.
DENIED – Notice of Intent to Deny. You can still argue their decision or withdraw your case.
APPROVED! Fantastic news – CONGRATULATIONS! You will need to activate your card, amend your social security status etc.
—
This is just a quick rundown of the process. Yes, this is an epic application but if the USA is where you see your career in the long term, this application will be worth it.
There are many myths surrounding this visa – 'It's impossible to get', 'It's only for Noble Prize winners, Oscar/Grammy/Pulitzer winners'. We got ours and countless others have too. It is a paper application, designed to allow you prove your eligibility to live and work in the United States, to create art, build your business, train and compete as an athlete, educate others and advance science, and benefit the American people and culture. Our guides detail how to present your evidence, how to word your explanatory petition letter, and give many examples of what makes for strong and compelling proof.
Our guides are designed to be easy to follow and break down each step for you.
PS This is a long article – download it here to read later.
Have a read of our story here and check out our Frequently Asked Questions.
We are excited for you in this adventurous next step in your life. We wish you all the best in your global career.
Rachel and Kevin

EB-1 Guide
$317
$397
USA Green Card step by step
From start to finish
Extraordinary Evidence
Petition Letters and Sample Recommendation Letters
Filing all Forms
Responding to an RFE
Self-file or Attorney
JOIN US
COMBO

$397
$497
O-1 & EB-1
Both COMPLETE visa guides
O-1 Visa & EB-1 Green Card
Every step of the way
FULL GUIDES
Everything to Apply
Self-file or Attorney
JOIN US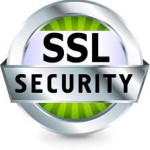 US visas for foreign artists, US artist green card, greencard, uscis, permanent residence, British, Irish, Australian, green card process, green card requirements, usa green card process, green card application, immigration attorney, artist visa, O1 extension, how to work in US as an actor, filmmaker green card, musicians green card, actor green card, green card application, us green card requirements, foreign actor new york, foreign actor los angeles, international, canadian, M visa, P visa, us work visas for actors, immigration tips, us artist work visa, makeup artist, extraordinary artist, green card interview questions, usa green card process, us visa application form, artist visa usa, o1 visa usa, working visa usa, artist green card in America, self petition green card as an artist, how do i get my artist visa usa, voice over actor, photographer, recommendation letter sample, reference letter, testimonial letter, spouse, artist visa usa requirements, visabot, visa usa, extraordinary ability green card diy, artist o1 to eb1 diy, Our comprehensive step-by-step guides will show you how to file your US Artist Green Card or O1 Visa – self-file or work with an attorney.